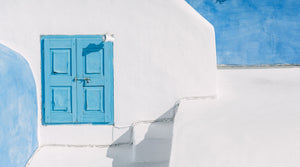 OUR BRAND
Koukla jewellery is designed for you to look and feel sensational, fearless and  empowered. 
Infused with a mosaic of inspiration from dazzling destinations, our jewellery embodies adventure, joy and wellbeing. We have travelled to stunning places far off the beaten track to discover hidden gems that inspire our treasure trove of jewellery. 
Fusing contemporary with timeless sophistication, we create special, bespoke pieces that can be worn now and forever. Our collections are made from recycled sterling silver or brass with 18ct gold plating. Each piece is lovingly designed in London and carefully created with meticulous attention to detail. 
OUR INSPIRATION
It all started on a holiday, where all the best thoughts take place.
In Santorini, time stood still. The tranquil ocean was a mesmerising blue and the healing aroma of the salty air evoked feelings of serenity.
Could this blissful feeling be cast in precious metals? Kept forever and worn whenever…
As the warm waves melted into the powdery sand, dreams of jewellery emerged. Jewellery that shined as brightly as the golden sun and sparkled like the moonlight on the Santorini sea.
SOON AFTER, KOUKLA WAS BORN...
Inspired by that dreamy holiday, we aim to create beautiful jewellery that brings escapism to the busy buzz of life.
As our brand continues to evolve, we take an eclectic blend of inspiration from all corners of the world. Each piece is therefore deeply permeated with feelings of unadulterated happiness, bought to life by those moments in paradise.